I cannot believe that it has been three months since my website relaunch and I have published over 60 articles already!
I asked in my last "progress report" what kind of articles visitors were interested in seeing. I received very few responses, but most of them pointed in the direction of Technical articles. So this month, 16 out of 24 articles were about Web Development. I had been working on creating a style guide for my website whilst also putting together my first WordPress plugin. So I really did have a lot of share about this in August.
Because one of my other pastimes is reading and watching crime thrillers, I have also introduced a new topic – Entertainment. It is too early to say if I will have interesting things to say about it. But you never know until you have tried, right?
I had been spending some time in August reorganising my stamp collection. So I did not get a chance to put up a video. But I promise there will be a video up soon under the Philately section.
How Many Views in August?
Keeping up with July, in August the website surpassed my goal of 300 visitors by 29. The website had 329 visitors with 495 views. That's a Barney Rubble
In bowling, Barney Rubble means knocking down all 10 pins twice in a row. This is the second time I have met my goal of the number of visitors. Hence the reference.
!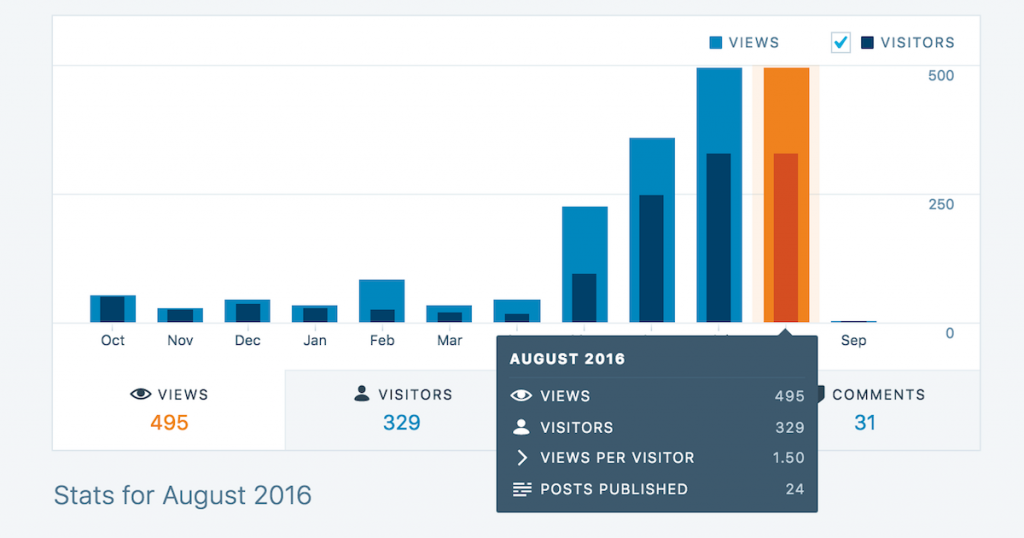 What were my Most Visited Pages?
As usual, I use Google Analytics to gather statistics about my website. But this time, rather than focus on just the number of views, I also looked at how many people continued to navigate the website after they visited the popular pages/articles.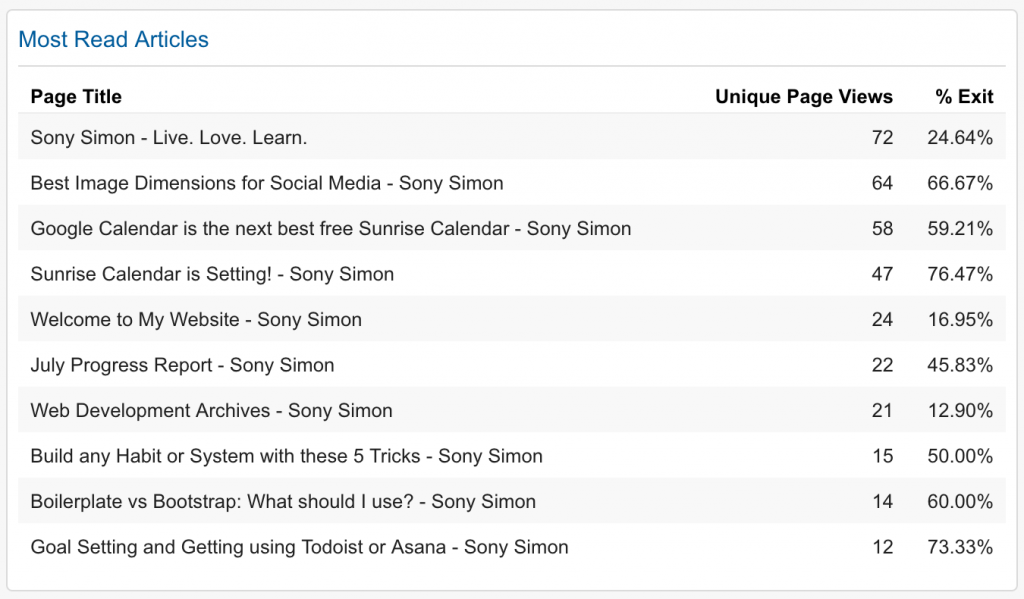 You can read more about % Exit in Google, but at a high level, it gives the percentage of visitors who left the website right after they visited the specified page. The lower the number, the better it is.
Apart from my Home Page which received 96 unique views, the 3 most visited pages were:
Best Image Dimensions for Social Media published on 7th Aug
Google Calendar as an alternative for Sunrise Calendar published on 5th Aug
Sunrise Calendar is Setting! published on 14th July (yes, July!)
Sunrise Calendar was a popular calendar application that was recently proposed to be shut down by Microsoft. So there were a lot of visitors interested in finding alternatives. That would explain the popularity of these articles.
The % Exit rates are better than I expected, as I noticed that at least 20% of the visitors were interested in other content in the website. I am not getting paid for views… so my joy comes from knowing that I am sharing something that at least 100 people out there are interested in reading.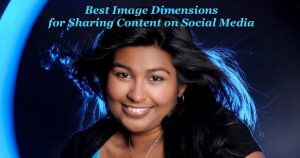 There was a significant hike in views when I published the article about image dimensions. I believe, putting my photo on the featured image made an impact. Not because I look like a super model but because of the personal touch.
Who are my Visitors?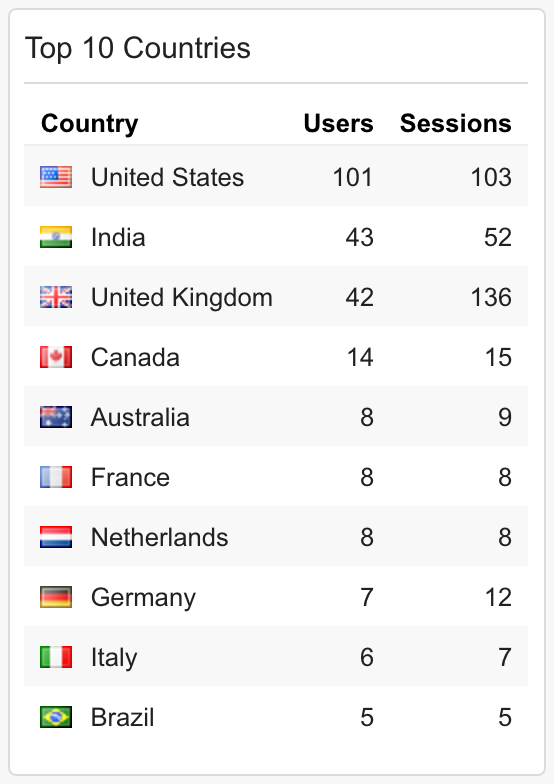 After realising that there were a lot of spam that was showing up as sessions and views in my Google Analytics report, I did a major filtering activity in August. Now the countries are less surprising to be honest – except for the USA being on the top.
I can officially say that I have more US visitors than both India and UK combined. Wow… thanks to my friends and visitors from the USA 🙂
In August, I had a lot of people reach out to me via comments, messages and social media seeking advice and help on WordPress. I also received a few people sharing their personal stories when I posted the articles How I (almost) overcame one of my biggest distractions? and Is Mental Accounting affecting your Financial Decisions?
Based on the statistics for the last 3 months, I can see I have a huge number of returning visitors. The numbers say 429 sessions over the last 3 months. That is an impressive number! 🙂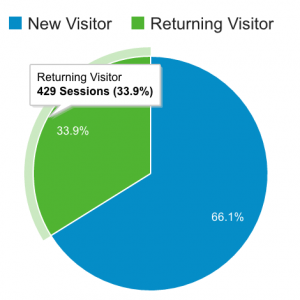 What are the Top Sources of Traffic to my Website?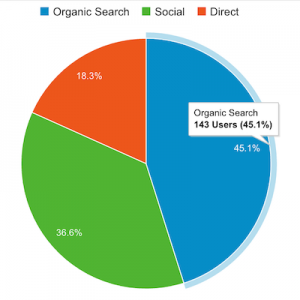 Now here is the amazing bit. Over the last couple of months, the top traffic source was Social Media at around 70%. But this month, the main traffic source was Organic Search.
143 website visitors found my website through the search engines in August. That is 30% more than last month. Awesome!
I mentioned in my last progress report that one of my articles had made it into the top 20 search results in Google. It is possible that a few more have, but I haven't done an analysis of that yet. I have been promoting my articles on Sunrise Calendar alternative and do think, that has made it into the top 50 at least.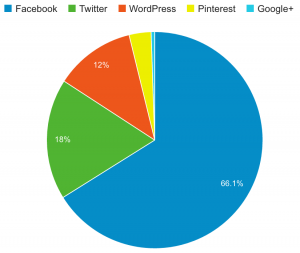 There were no surprises with my Social Media Traffic with Facebook bringing in 66% of the total traffic and Google+ bringing in the least at 0.5%. Twitter brought in very mild traffic with 33 views. My top 5 articles with a good response on Twitter were:
Three Key Lessons from August
Use my photos on my website (three times in a row – now that's proof!)
Write content that will address a common problem (e.g. Sunrise Calendar App shutting down)
Most visitors are very reluctant to interact publicly and more comfortable sharing views and comments in private messages. (Strange, but true!)
What's in store for September?
In September, I will be focussing on designing the layout for my website. Once this is completed, the style guide and prototypes will be shared with all of you. There may be fewer articles published next month because I will be allocating some of my "writing" time for prototyping the website layouts.