Like I mentioned in my previous "progress report", I spent most part of September concentrating on the design and prototype of my new WordPress theme. I can't wait to show them to you! I will be soon doing that this month.
I wrote only 16 articles this month and definitely I noticed a shortfall in the number of visitors to my website. I also introduced Leo the Robot on my website. You will be seeing more of him this month.
How Many Views in September?
With me writing fewer articles this month, the viewership went down to 298 this month. However, I don't think it is drastically changed either. I'm still very near the 300-mark which is my goal.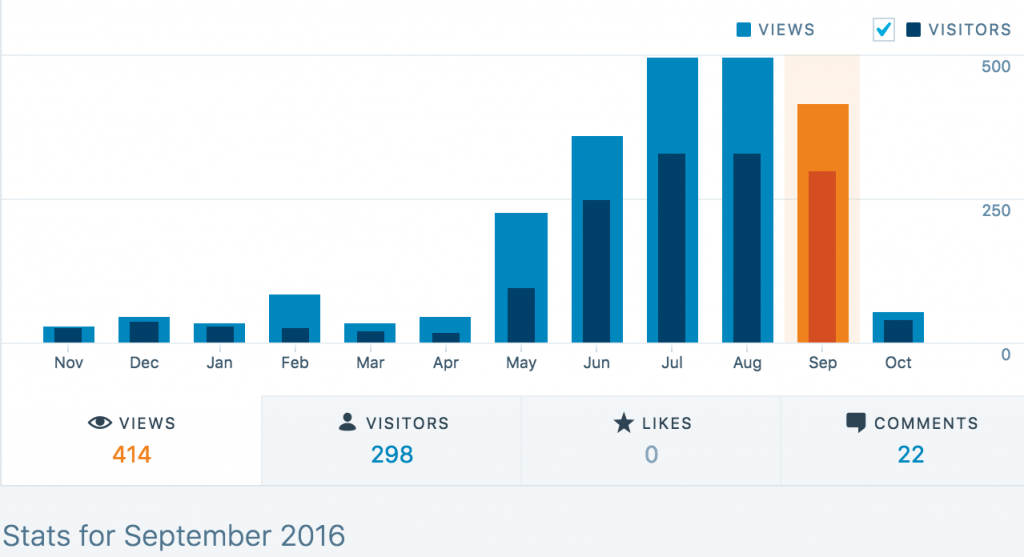 What were my Most Visited Pages?
As usual, I use Google Analytics to gather statistics about my website. And like last time, I also looked up how many people continued to navigate the website after they visited the popular pages/articles. And the numbers are looking good 🙂 The highest number under %Exit is 50. Which means more than half-the-people who visited more than one article on this website.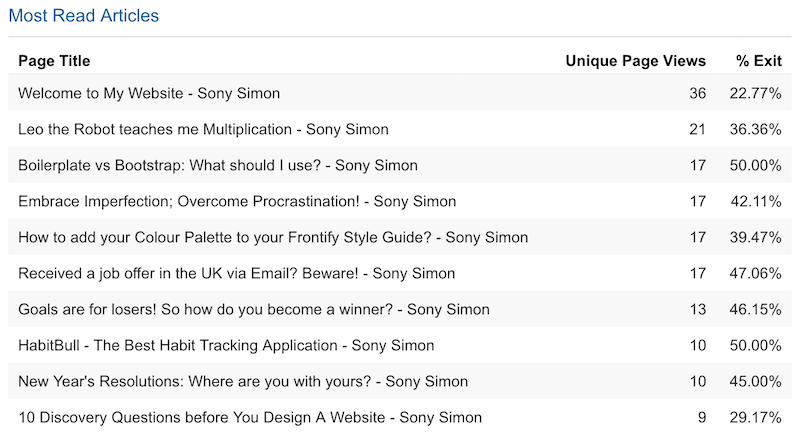 Apart from my Home Page which received 36 unique views, the 3 most visited pages were:
Leo the Robot teaches me Multiplication published on 18th Sep
Boilerplate vs Bootstrap: What should I use? published on 6th July (yes, July!)
Embrace Imperfection; Overcome Procrastination! published on 6th Sep
If you google about "boilerplate vs bootstrap" you will see that my article on this topic is within the top 10 google results. That explains why a 2-month old article is still "popular".
There was a hike in the overall views on the day when I posted about Leo. Although the number of visitors was less than 25, there were over 70 page views.
Who are my Visitors?
After realising that there were a lot of spam that was showing up as sessions and views in my Google Analytics report, I did a major filtering activity in August. There are no surprises with the top 3 – the US, UK and India.
I continue to have more US visitors than both India and UK combined. Wow… thanks again to my friends and visitors from the USA 🙂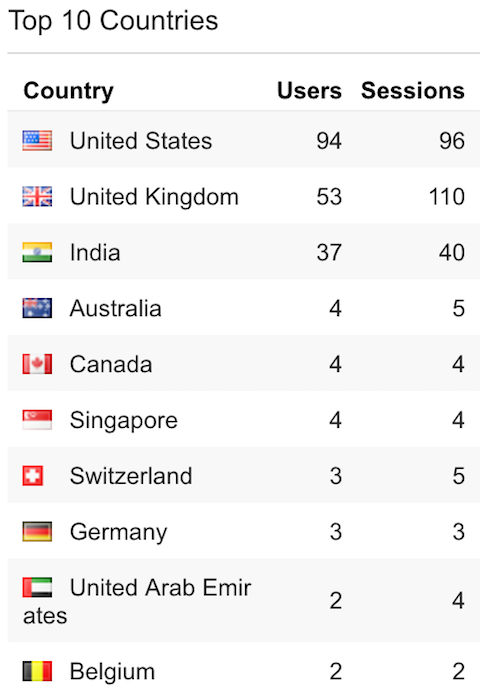 I revamped the contact form on the website and ever since I have had a lot of people reach out to me via the contact forms.
What are the Top Sources of Traffic to my Website?
My top source this month has been Social Media bringing in 127 users. Search Engines maintained a close second with nearly 90 users.
There were no surprises with my Social Media Traffic with Facebook bringing in 88.7% of the total traffic and Google+ bringing in the least at <1%.
My top 3 articles shared on Twitter this month were:
I have been using One.com for hosting and I shared about this offer at One.com. This was a big hit this month! Use this link to get a £5 discount at One.com. You pay just £4.80 for a WordPress web host and sparkly new domain name for the first year!
Three Key Lessons from September
Everybody loves Leo! 🙂
If I need to maintain the number of visitors at 300+ I need to write quality articles, but I also need to keep the articles flowing.
I need to put myself out there and interact a little more with my tribe (aka other bloggers who write about WordPress development).
What's in store for October?
More Leo, more on my website prototypes and more surprises!
Use
this link
to get a £5 discount at One.com. You pay 
just £4.80
for a WordPress web host and sparkly new domain name for the first year!