That headline may have confused you. Why choose a blog topic! After all, a blog can be about anything and everything, right? Well… sorta…
When you blog about your bad work day or your day out in town centre, you are definitely going to get some "likes" and "hearts" on the social media from your friends, family and acquaintances. But how do you go from there to befriending awesome strangers who have the same interests as you and who tell you how your blog post inspired or helped them?
A simple answer to that question is "Provide Answers"! Confused? Read on…
People search the internet to find answers or solutions to problems. If you are an avid home chef, then I bet a recipe blog is one of the top blogs in your reading list. You know you can go back in there anytime to find answers to the universal question – "What's for dinner?". If you are a fashionista, then you will follow fashion blogs for inspiration… and sometimes even to find an answer to another common problem – Boredom!
What does that tell you? If you want to encourage repeat visitors to your blog or website, then one of the solution is to choose a blog topic and stick to it. Soon you will make friends from the internet who are flocking to your blog in search of answers.
In this article, I will help you choose a topic for your blog that you will feel inspired to write about and will gain you a loyal audience.
Step #1 – Choose a Blog Topic you Love
Open a text editor on your computer or grab a pen and paper. Next, note down 50 things or activities that interest you. If your mind is striking a blank, here are some pointers:
What are your hobbies?
What topics do you surf about on the internet?
What is your favourite topic to discuss with friends?
What intrigues you? Or What are the topics on which you ask questions the most?
What are you learning now? (e.g. a new language, a new skill)
Find inspiration on Google Trends
Now choose the top 10 from this list.    "So, why did you have me write 50 to start with, Sony?", you may ask. Have someone asked you about your top 5 favourite songs to which you answered the random 5 that came to your mind and left the one out you actually liked… just because you forgot at that moment?  Well… now you know…
After Step #1, you will have your "Top 10" list ready.
Helpful Hint: If you do not have 10 in your top 10 list of blog topics, don't worry. Move on to Step #2 with what you have.
Step #2 – Choose a Blog Topic you Know
For the Top 10 topics you choose, write down 10 blog post titles or headings. If you can't think of anything for a particular topic move on to the next.
If you have topics for which you had only 3 or less number of titles, strike them off your list. If that is the case for all of your topics, then do some online research (maximum 3 minutes per topic) to find some inspiration.
Next, order your Top 10 in the descending order of the number of titles you have. Pick up the Top 3 topics from this new list. For the Top 3 topics, choose any 3 blog post titles or headings and write an outline of the blog post. (i.e. 3 Topics x 3 Outlines).
If you are struggling with this, again use your key resource – the internet. But this time only 1 min per blog topic.
At this stage, you will already have an inkling of the topic you want to go for. Choose the topic or 2-3 topics you feel passionate about when you blog. Choose the topic that fills you with blog post ideas.
After Step #2, you will have your preferred Topic(s) ready.
Helpful Hint: If you are stuck here and cannot find a blog topic, then go back and repeat Step #1. This time around, choose a different set of 10 topics. A blog topic is not your spouse. If you "love" a topic, but do not "know" it, you can still go for it. If it doesn't work for you, you can change it later.
Step #3 – Find Your Tribe
This is an optional but  fun step when choosing a blog topic!
The easiest way to go about this is to use a search engine and find out who else is blogging about the same topics as you do. But I have included a fun way to approach to this.
Head over to Google Keyword Planner. Create or Sign-in to a Google Adwords account (don't worry – you will not be paying a penny!)
We will use Google Keyword Planner to find out the number of times a particular word or phrase is searched in Google. When you login to Google Adwords you will see an option to create a campaign.
The section that we are interested in is "Choose a target audience" as shown in the picture below. Entering a keyword will give you an idea on how many times a particular word (e.g. wordpress) or phrase (e.g. web development) was searched on Google.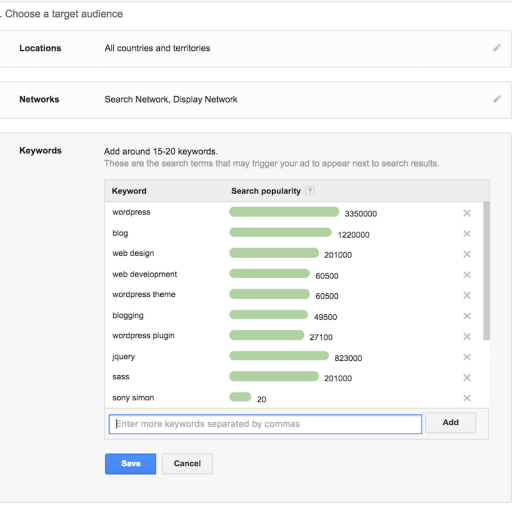 Now enter some word or phrases related to the topic you are planning to write about. This will give an idea about the trends in your chosen topic. Choose words or phrases that show roughly 10000 – 30000 searches. (Unlike "Sony Simon" which is only 20 searches a month. I bet those 20 are me searching myself! 😉 )
Next head over to Google.com and enter some of those search words or phrases to find out who else is blogging about your chosen topic(s). This is where you will find your fellow-bloggers that you can follow and get inspired by.
As you read through the other blogs in your topic, you will gain an understanding of what is being covered by others and what is not. This will then help you choose specific set of subtopics to address in your blog.
Helpful Hint: Sometimes the search results will be frightening. The more the search results, the more difficult it will be to gather a loyal audience. But if you are passionate about your blog topic and especially if you had a smooth sail through steps 1 and 2, don't let the competition bother you. Passion beats Competition!
---
If you found this article interesting, let me know in the comments section below. Also, don't forget to share it with your friends who will find this useful.
You can read more articles about blogging (as I write them) under the Content Creation category.
If you want to write a guest post on my website or feature your blog on my website, feel free to leave that in the comments section below.
---
For Further Reference: