To put it bluntly, Goals are for losers. You will spend every moment until you reach the goal – if you reach it at all – feeling as if you were short of your goal. In other words, goal-oriented people exist in a state of nearly continuous failure that they hope will be temporary. That feeling wears on you. In time, it becomes heavy and uncomfortable. It might even drive you out of the game.
This is an excerpt from the book "How to Fail at Almost Everything and Still Win Big" – an autobiography of Scott Adams. Scott Adams is the man behind the Dilbert comic strips. He was talking about Goals vs Systems in his 6th chapter here.
Goal is the "what" and the System is the "how". System is a habit or a repeatable process that defines how you go about achieving a goal. It makes no sense to have one without the other. So I don't believe in a Goals vs Systems theory. I believe in a Goals and Systems theory. To achieve a goal, we need to imbibe a system.
So setting a goal without having a supporting system is actually pointless. In my previous article I wrote about splitting the goal into actionable steps. Some of these steps will require recurring actions. A good way to explain is using the example goal I set previously – "Write a 80,000 word Thriller Novel in 48 weeks". To progress this goal, I need to have a recurring action in place. I need to write daily or at least a few days a week until I reach a set target number of words or chapters every week. Because, if I don't get into the habit of writing on a regular basis, then it is highly unlikely I will complete the book. The book is not going to write itself (D'uh!).
This same principle applies for all of our goals. If you are considering quitting your day job and starting your own business, put a system in place. Take a training, find a mentor, setup a savings/investment account, do things about your goal. If not, it will just be a dream which is overridden by the "system" of waking up and going to your day job for the rest of your career.
If I want to become a millionaire, but continue to be reckless in managing money, then I will not reach my goal. And even if I did my sheer luck (may be, by winning a lottery), I don't think I would be a millionaire too long! Money Management is the system; becoming a Millionaire is my Goal (not really, but I don't mind if you wanted to donate!)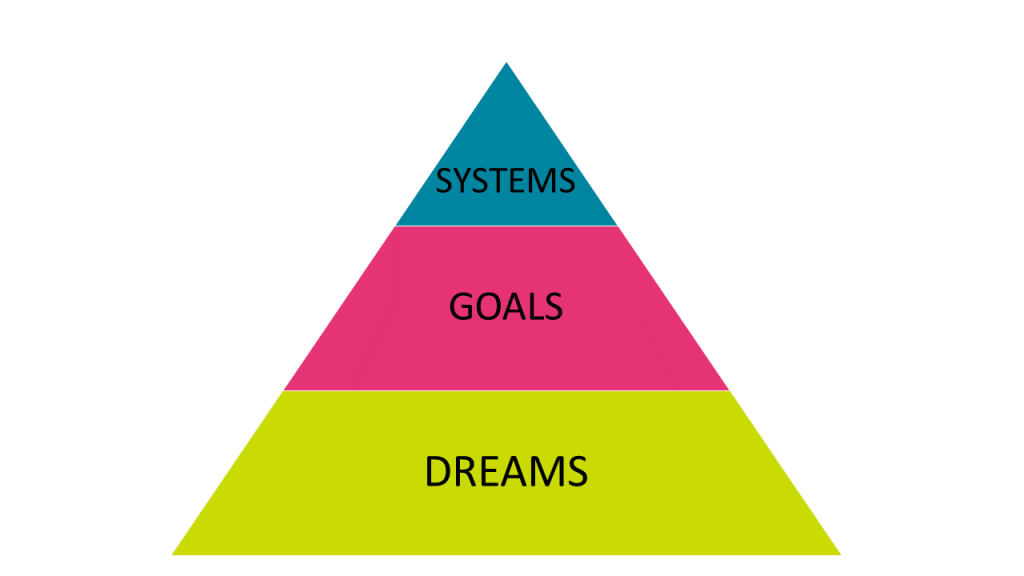 So what if I focus only on the system, will my goal be met? I think developing a system without an end goal may sometimes be insufficient. Let's say you want to run a marathon. You run every single day – Good job! But if you don't run enough miles, then you may not be prepared to run a marathon. If I spent every single day writing without having the end game of a thriller novel in my mind, I will have a lot of words, but no book. Goals and systems are the two sides of a coin.
Have you thought about setting up a system for your goals? I will be back with more regarding setting up a system and what worked and didn't work for me in the next few articles.