In the last month alone, I had three friends and family members from India contact me about job offers/opportunities they had received from some of the UK-based companies. I am glad they got in touch with me because ALL of them turned out to be scams. Last week when a very dear and near member received an email, I decided to write this article for the benefit of everyone out there so you can avoid these employment scams.
I will share some of the red flagsSomething signalling problems that you should be aware of when you receive these "job offers".
Red Flag #1 – No Company Email ID
Almost all the prominent companies here in the UK have websites. So they would usually use an email id suffixed with the website name. Let's say, for example, the company name is Hotel Blue and their website is "hotelblue.com". Then you would receive emails from and email ID like something@hotelblue.com
Instead, if the email ID you received the email from or the email ID given for you to contact them is like – ourcompany@gmail.com or ourcompany@hotmail.com or ourcompany@yahoo.com or ourcompany@live.com, then there is definitely something wrong.  Here is a list of all the free email providers.
Red Flag #2 – No or Fraudulent Company Website
Like I said in the above point, every prominent company here in the UK will have a company website. When you receive a job offer always find the company website. I will also suggest that you check the details of the website to confirm it is a genuine one.
For example, one of the employment scams said they were looking for expatriates to work at a hotel in London. The website of this hotel was provided as www.allseasonshotellondon.co.uk. The site has since been taken down because of the employment scams. But if you head to one of the Domain Check websites and enter the website address there as www.allseasonshotellondon.co.uk, you will see that this website was registered in April 2016 and was registered in India. Don't you think it is strange that the website of a company in the UK is showing its registration address in India?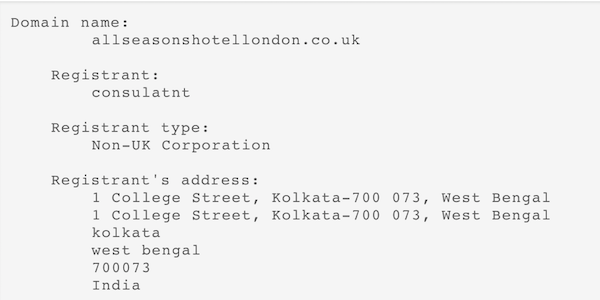 Red Flag #3 – Premium Contact Numbers
Now most people who are not from the UK may not know this, but UK landline numbers all begin with 01, 02 or 03 (i.e. +441, +442 or +443). Some companies also use free numbers that begin with 0800 or 0808 (i.e. +44800 or +44808).
However, it is very strange if a company puts a non-geographic number to be contacted on for job opportunities. These can be numbers that begin with 0843, 0844, 0845, 0870, 0871, 0872, 0873 or 09. It is equally strange if the only number mentioned begins with 07 (i.e. +447) because usually, mobile numbers here in the UK begin with 07.
The most "dangerous" thing is to call numbers beginning with +449 as these are called Premium numbers and the call charges can be gigantic (yes, really, like 350 INR per minute). So please be careful!
Also here is a good website to check if the landline and the location of the company are matching :
Red Flag #4 – Incorrect Address
Thanks to Google Map you can see the street view of most of the roads in the UK. If the company address is provided, always check the address out on Google Maps. Here is a video showing me checking the location of a store called Primark.
Bonus Tip: Check the Company
Use this government provided company checking website to find out more information about the company offering you the job.
If you have been offered a job in the UK and you are suspicious about it check out the details of the company. If you need any help from me, feel free to drop me a note in the comments section below.
Safe job hunting!