If you know me, you know I love (addicted) whodunnits, crime thrillers and procedural dramas.
And recently I have noticed a few TV series, where the crime-fighting duos have this very interesting pairing of a female detective or special agent with a quirky male character who helps her with the crime solving. Don't you believe me? Well… here is a list of 5.
#1 The Mentalist
Agent Teresa Lisbon (CBI and later FBI) and Patrick Jane,  the fake psychic turned consultant
Genre: Procedural Drama
Period: September 23, 2008 – February 18, 2015
Seasons and Episodes: 7 seasons 151 episodes
Channel: CBS
This was probably the first TV series where I noticed this TV trope. And truth be told, I was immediately drawn to the debonair Patrick Jane played by Simon Baker. He was a fake psychic medium until his family is murdered by "Red John". He then sides with the Law to find the killer. He was initially an independent consultant for California Bureau of Investigation, before moving to the FBI. Using his Holmes-like observation and deduction he helps resolve a lot of cases.
Teresa Lisbon was a senior agent at the "Serious Crimes Unit" in California Bureau of Investigation(CBI). After leaving the CBI, she served as a sheriff in a small town in Washington state. Later she joined the FBI. She is a is smart, witty and a no-nonsense character who does things by the book, in stark contrast to Jane's unconventional methods. Robin Tunney plays Teresa in the Mentalist.
# 2 Castle
Detective Kate Beckett (NYPD) and the mystery writer, Richard Castle
Genre: Procedural Drama/Comedy
Period: March 9, 2009 – May 16, 2016
Seasons and Episodes: 8 seasons 173 episodes
Channel: ABC
Richard Castle is a best-selling mystery writer. When a young woman is found dead under circumstances described exactly in a book written by him, he is brought in to provide insight into the case. When more victims turn up in similarly-accurate conditions described in his books, Castle volunteers to assist the investigation by applying his knowledge of criminal behaviour and his own books to the department's considerable skills. He uses his connection with the mayor to charm his way into shadowing Detective Kate Beckett. Nathan Fillion who plays Castle reminds me of Peter Pan with his childlike naivety.
Kate Beckett is an NYPD homicide detective who becomes the inspiration for Castle's bestselling Nikki Heat novels. Stana Katic portrays Kate Beckett as a very strong female character. She is an avid reader of Castle's books and initially disapproves of having Castle shadow her work. But later she warms up and recognises Castle as a useful resource in her team's investigations.
#3 Perception
Agent Kate Moretti and Dr Daniel Pierce a schizophrenic neuropsychiatrist
Genre: Procedural Drama
Period: July 9, 2012 – March 17, 2015
Seasons and Episodes: 3 seasons 39 episodes
Channel: ABC
Dr Daniel J. Pierce is a neuropsychiatrist and Davenport Award–winning neuroscience professor at the Chicago Lake Michigan University (CLMU).  Pierce's interest in neuroscience stems from his own long history of paranoid schizophrenia. He is enlisted by the FBI as an expert consultant to assist on some of their most complex cases. His hallucinations sometimes enable him to pick out subtle clues in solving crimes. Eric McCormack played the role of Pierce to perfection.
Kate Moretti is Pierce's former student and an FBI agent. Kate has a "tendency to go beyond the scope of the assigned investigation", which cost her a position in Washington, D.C. and caused her demotion back to Chicago. She had a crush on Pierce during her college years and is his most trusting ally. I love Rachael Leigh Cook… she is cute… and was the real reason I started watching this series.
#4  Forever
Detective Jo Martinez (NYPD) and Dr Henry Morgan, the immortal medical examiner
Genre: Detective Drama, Fantasy
Period: September 23, 2014 – May 5, 2015
Seasons and Episodes: 1 season 22 episodes
Channel: ABC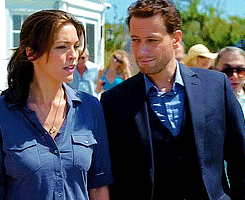 Dr Henry Morgan, an immortal New York City medical examiner who uses his extensive knowledge to assist the New York City Police Department (NYPD) in solving crimes and to discover a way to end his immortality. Flashbacks within each episode reveal various details of his life. Although knowledgeable about many topics, Dr Morgan demonstrates a general lack of knowledge about modern popular culture. Ioan Gruffudd, the Welsh actor, plays Dr Morgan. He is charming and I can't say enough of his accent. 😉
Jo Martinez is a sharp, no-nonsense, determined detective with the NYPD who is intrigued by Dr Morgan's detailed medical knowledge when examining a corpse. She finds his behaviour to be "out there", but still relies on his insight for solving homicides. Alana de la Garza plays Martinez. When I saw her as Connie Rubirosa in Law & Order, I knew that she deserved a TV series with her in lead.
#5 Lucifer
Detective Chloe Decker (LAPD) and Lucifer Morningstar (aka the Devil)
Genre: Procedural Drama, Supernatural
Period: premiered on January 25, 2016
Seasons and Episodes: 1 season 13 episodes (as on date)
Channel: Fox
This is the only show out of this category that is currently being aired.
Lucifer Morningstar who is bored with his life as the Devil abdicates his throne and takes a "vacation" in Los Angeles. He runs a piano bar in Los Angeles called "Lux". Among other powers, he has a supernatural awareness of any person's hidden desires and can compel them to speak the truth. After a minor celebrity whom Lucifer once helped achieve fame is murdered outside his club, he becomes involved with the LAPD in finding the one responsible so that he can "punish them". He then becomes a consultant for the LAPD. Tom Ellis is also a Welsh actor and is charming with his accent and his humour (especially when he speaks about his identity and no one takes him seriously).
Chloe Decker is an LAPD homicide detective who solves crimes with Lucifer after he takes an interest in her because she appears immune to his abilities. Because of an earlier incident in which she clashed with the LAPD concerning a cop shooting, she is now ostracised by her fellow officers. She seems to be the only one able to physically hurt Lucifer. Lauren German plays Chloe Decker.
---
So have you watched any of these TV series? Do you have a favourite amongst these? Do you know of any other from the same category? Let me know in the comments below or respond in my social media share.