Are you planning to put together a new website? Then having an idea of how many pages will your website have and what content you are planning to put on your website is very important during the early planning stages. A Visual Site Map will help you a lot with this process.
What is a Site Map?
A site map is exactly what it says – a map of your website. It is an HTML or XML page with a list of the pages on your website. It acts as  a directory for your website so users and search engines can easily identify the location and hierarchy of individual web pages.
So then… what is a Visual Site Map?
A Visual Site Map is a simple sketch or outline of your website with the details of the webpages and sections you plan to have on it.
Designing and developing a website can be a major project sometimes. So knowing what pages you want to have on your website and the hierarchy of them can help embark on this daunting journey.
A visual site map will help:
clarify your websites purpose and goals
avoid duplicate content
understand the progress of your web design/development journey
Tools to Create a Visual Site Map
You do not need very complex or expensive tool to create a visual site map for your website.
Pencil and Paper
The easiest and my most frequently used tool is this – a pencil and a paper. If you are planning to draw a visual site map, I would recommend first using some sticky page flags as your pages. Then you can use a wall (like me) or a whiteboard to order them. Once this is done, you can use a paper and pencil to draw the final visual site map. I even used colour pens to mark mine to differentiate categories and purpose of the pages.
If you do not have too many pages, then I would suggest just writing them down. An example is given below:
HOME PAGE
ABOUT PAGE

Personal Details
Professional CV
Link to Facebook
Link to Twitter

BLOG

Music Review
Music Portfolio

CONTACT PAGE

Contact Details
Link to Google Maps
Desktop Software
This is just the digital version of paper and pencil. You can use a graphics software like Paint Brush, Microsoft Visio or Photoshop. You can use a document program like Microsoft Word or Page or Notepad if you are planning to outline your visual site map. You can also use software built for this purpose or even use flowchart or mind mapping software. XMind and FreeMind are my two recommendations.
Online Tools
Another option to create a sketch to depict your site map is to use Flowchart, Mind mapping or Site map online tools. Using online tools makes the process easy. There is no software download required. You can go to the website create a login and save your visual site map.
Draw.io is one of the easiest flowchart tools. You can head to www.draw.io, choose where you want to save your final visual site map to (e.g. Google Drive, One Drive or Dropbox) and get started immediately. The simple visual site map below took me less than 5 minutes from scratch and it automatically saved the diagram in my Dropbox at the end of it. And it is completely free!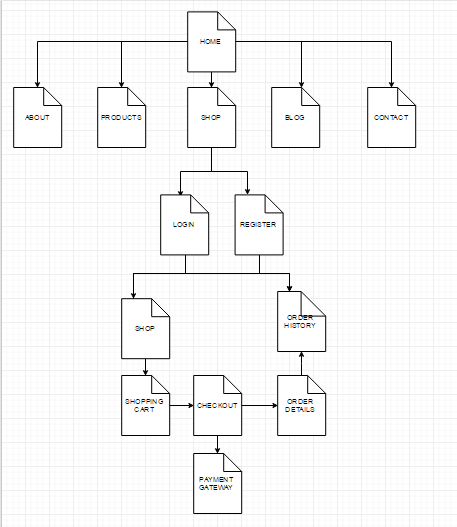 Other Recommendations
Site Map tools
Other Tools