In one of my previous articles, I mentioned about my favourite calendar application – Sunrise Calendar – which is shutting down. This made me switch back to Google Calendar over the last month. During this period, I also found another free calendar application called SolCalendar. There are a few things I miss, but overall I am happy with my Google+Sol Calendar combination.
I think SolCalendar is a "pretty cute" calendar. If you don't believe me check this video out.
What do I look for in a Calendar Application?
1. Basic Calendar Features
I think all calendar applications must come with some basic features. These include the ability to:
set appointments of any duration (i.e. 26 mins, 1 hour, 1 day, 4 days, 6 weeks)
setup recurring appointments/events like Birthdays and Class Timetables
add venue details that will integrate with a map application
set multiple and customisable reminders that will pop up on my computer or mobile device
Both Sunrise and Google calendar has all of these feature.
But you know what is even cooler? I am using an Android smartphone. So I sync my phone contacts with Google Contacts. If I add the birthdays of my contacts in my phone, they appear on my Google Calendar. I just tried it with my birthday and actually saw a message on my calendar saying "Happy Birthday". This is Legen… wait for it… dary! (I had to sneak in that 'How I met your mother' reference right in there!)
2. Ubiquitous
As a couple who really live up to the philosophy of "opposites attract", between me and my husband, we have a variety of devices – Samsung Galaxy phone, iPhone, Macbook and Windows desktop. So I we really need a cross-device compatible application. And for times when we are abroad and/or in a "no-internet" zone, how can I forget offline capability? Sunrise and Google calendar are both perfect at this too.
3. Planner Friendly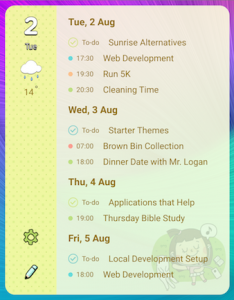 I use the calendar application in various views when I am planning. I do my weekly planning on Sundays over coffee and I love to see the Monthly and Weekly views. But on a day-to-day basis I prefer the Agenda view which just shows me the appointments for the day. Both Sunrise and Google offer Day, Agenda, Weekly and Monthly views. Agenda view is the one where only the appointments are shown, and this option is not available on Sunrise Calendar web version. Instead, Sunrise Calendar had a day view where you can see an hour-by-hour timeline.
Now using SolCalendar, I have this handy widget on my mobile where I can see my tasks and appointments for the day.
But since I started using Google Calendars (web version) for planning, I noticed a couple more views that are really handy.
Custom "Working" hours: I prefer to see my calendar for a specific time slot. For example, if you used your calendar for work appointments, all your appointments are going to be between 9 AM and 6 PM. So why even have a set of empty hours show up? Google Labs has a "Hide morning and night" feature which allows customisation of the timeline so it only shows the hours you want to see. You can still see a cut-down version of the appointments you have outside these hours which can be expanded any time for more information.
Custom Views: Sometimes when I am away on holidays for a fortnight, I like to see a custom view of 2 weeks. Google calendar has some present custom views (e.g. 2 to 7 days, 2 to 4 weeks). This is also handy if you plan twice a week or once in 2 weeks, because you can set up a custom view of 4 days or 2 weeks.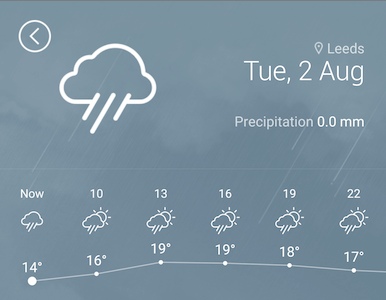 A few other features I use for planning which are available on Google and Sunrise calendar are:
Using natural language when adding appointments (see video below)
Drag and Drop functionality (see video below)
Mini Month Calendar (useful when looking at future dates)
Weather (check out the weather view on Sol Calendar)
Week Numbers
Ability to import and view other interesting/useful calendars (e.g. Public Holiday Calendars, Religious Days, TV Schedule)
Here is a video of me using the Google Calendar to postpone and schedule appointments:
4. Customisable
If you are anything like me, you will know what I am talking about here. I love my calendar application to be my way. I want to have:
Multiple calendars
Colour codes or tags or icons
Flexibility of week start days and time formats
Ability to have alternate timezone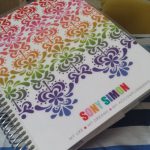 Before there was Google Calendar, I used paper planners and I was madly, deeply, passionately in love with Erin Condren Planners. I loved them until they became an "extra baggage" (in reference to portability – not relationship baggage). If you know anything about Erin Condren Planners, you will understand my love for colours. Here is a picture for your reference.
Anyway, with Google Calendar I had the flexibility of having different calendars. And with each calendar came a new colour. Sunrise calendar had the exact same feature. This was immensely helpful because I had my husband's work schedule set as one of the calendars. And previously when he used to travel extensively for work, I would have a lot of appointments on his calendar. Now I had his calendar colour set to grey so I could kind of ignore it. But with multiple calendars, this meant I could also "switch off" his work calendar when I was doing my daily tracking.
Now that I have been using Google calendar, I noticed that I can even colour code appointments within the same calendar. So my personal calendar where I keep track of my travel plans and bible studies, now has appointments in both these categories in different colours. Of course, I can read and make out what the appointment is for. But I prefer the colour for the aesthetic value. 🙂
Using the SolCalendar I can also add cute icons. Google Calendar Mobile app also comes with some illustrations. Here is a snapshot of my last weekend on both Google Calendar (left/first) and Sol Calendar (right/second). Which do you think is cool? (click for a bigger view)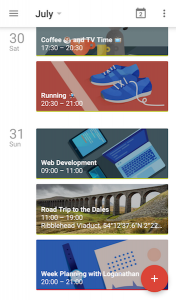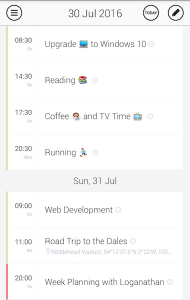 Both Sunrise and Google calendar has options to customise the week start days (either Monday or Sunday) and time formats (either 01:00 PM or 13:00). And I can have different timezone in both calendars.
5. Integrations
If there is one thing I miss about Sunrise, this is it! Sunrise calendar helped me see all calendars in one place. I actively used Sunrise to integrate my personal and work calendars (Google and Office365) and also managed to get my task reminders from from Asana and Evernote in one place.
I am now using Outlook to view my Office365 calendar. But that is another to have on the phone. I will survive with that!
But there is no replacement for a calendar integrated task management application yet. Over the last couple of weeks, I have resorted to using Google Tasks. Google Tasks is a very simple task manager with no concept of priorities of labelling. This is where Sol Calendar comes in. Using Sol Calendar, I can use colour to label and prioritize my tasks. This is not the best solution, but I am trialling this out for now.
I can only hope Asana brings in two-way integration with Google Calendar or I will need to say goodbye to one of my favourite task manager applications. In fact, I stopped my Todoist premium subscription just because of the calendar synchronisation aspect. Google has provided the Google Calendar API, so I am hoping the wonderful crew at Asana will do something about it soon.
---
With Sunrise Calendar going away in another 25 days, what is the calendar application you have chosen? How are you managing your integrations? What else are you missing about Sunrise Calendar? Let me know your thoughts in the comments below.
If you are interested in a detailed review of SolCalendar do drop me a note.