Yesterday I shared about how a webinar on Motherhood led me to embed some daily routines in my life. Throughout this week, on my website, I will share my experience of building seven daily routines that have helped me stay sane without being overwhelmed. 🙂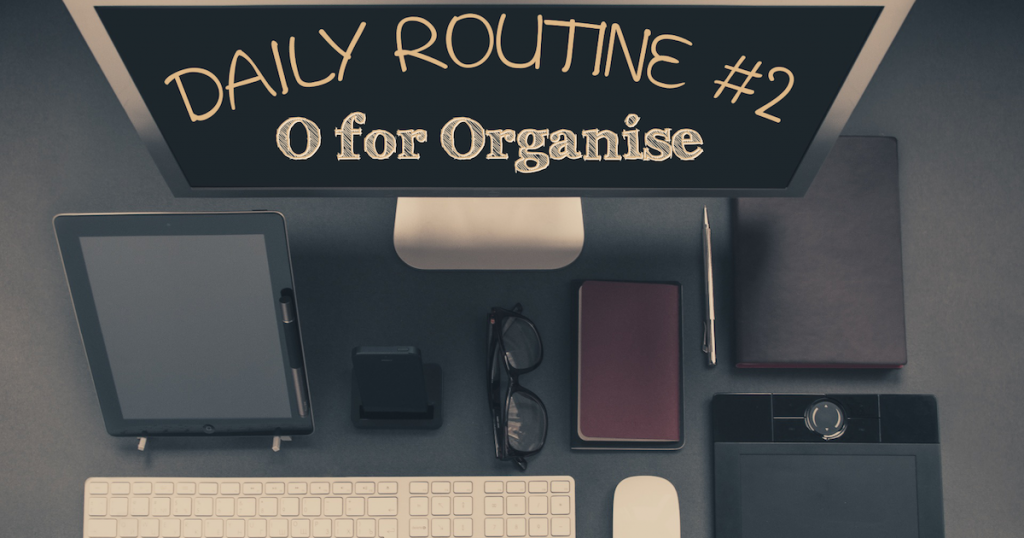 Routine #2 – Organise Environment
This is a routine that is hardly a month old. In September, during the Recycle week which ran from 12th – 18th, I got all fired up about declutteringDiscarding unnecessary items from an untidy or overcrowded place and recycling. Later that month and throughout October, my husband and I went through a major decluttering process – mostly focussing on our pain areas – wardrobes, books, pantry and my arts & crafts items. I have a lot of stuff for a person who wants to go Minimalistic in my retirement years.
I followed the KonMari process on all 4 rooms (dressing room, family room, kitchen and study), but I have stealthily avoided our storage room (aka Junkyard!). 😉 Long story short, after our arduous weeks of sorting, packing and furniture DIY, we decided that going forward we will have a consistent decluttering, cleaning and organising schedule.
You can read my article on KonMari method of home organisation here. It is like the detox before the diet.
This new routine has seen 16-hour work days, lazy evenings and overnight staying guests… and still survived. So far so good. So here is how we go about this.
Daily Themes
Cleaning chores are themed for each weekday with some "lazy day" allowances for the weekend. For example, Mondays are for our personal space (i.e. bedroom or dressing room) and clothes. Wednesdays are for our leisure space (i.e. family room or study) and hobby items (like books, crafts). And so on. We have been at for a few weeks and it has taken away the pain of housekeeping.
Our "theme" is set up taking into account a couple of factors, like
The frequency of room usage: For example, our guest bathroom is very rarely used and that gets just as much attention. But our "multi-purpose" family room is an altogether different story.
Other weekly commitments: If there are other work or social commitments, we schedule an easy theme (for example, guest area) for that day. After all, life is not all about clean rooms, right?
There are some chores, however, that are done every day like washing the dishes.
Currently, I have themed only the house interiors. But someday I will need to extend this principle to the house exteriors like the garden and the car. But like they say, Baby steps, eh? 🙂
Teamwork
Because my "environment" is shared with my hubby, we have teamed up together for this routine. We clean up after ourselves. We also encourage and inspire each other to stay on track. Without the teamwork, this routine is hard to maintain.
Not Cumbersome
Another key tip to keep this routine going is to keep this as easy as possible.
There are no strict rules on how we do the organising… at least not yet. Most days, we only do a surface cleanse.
Tidy up surfaces
Remove items that belong in other rooms or need to trashed, donated or sold
Vacuum
But there are rooms that still need our attention. There are still clothes waiting to be donated and books waiting to be sold. There are still a lot of clutter that is just neatly organised. But we don't want to be bogged down by house chores. So we tackle a little every day based on the theme of the day and at least for 5 minutes.
We have got a couple of lazy days in between. But even on lazy days, the dishes get done and the toilet gets a wipe down. These tiny things just act as a reminder to stay on track.
Now your turn… 🙂
I will be back with more about my Daily Routine. So stay tuned.