---
Early last year, Microsoft acquired the calendar app maker Sunrise for over $100 million. It has not been a secret since then that the Sunrise Calendar app was going to have a demise date.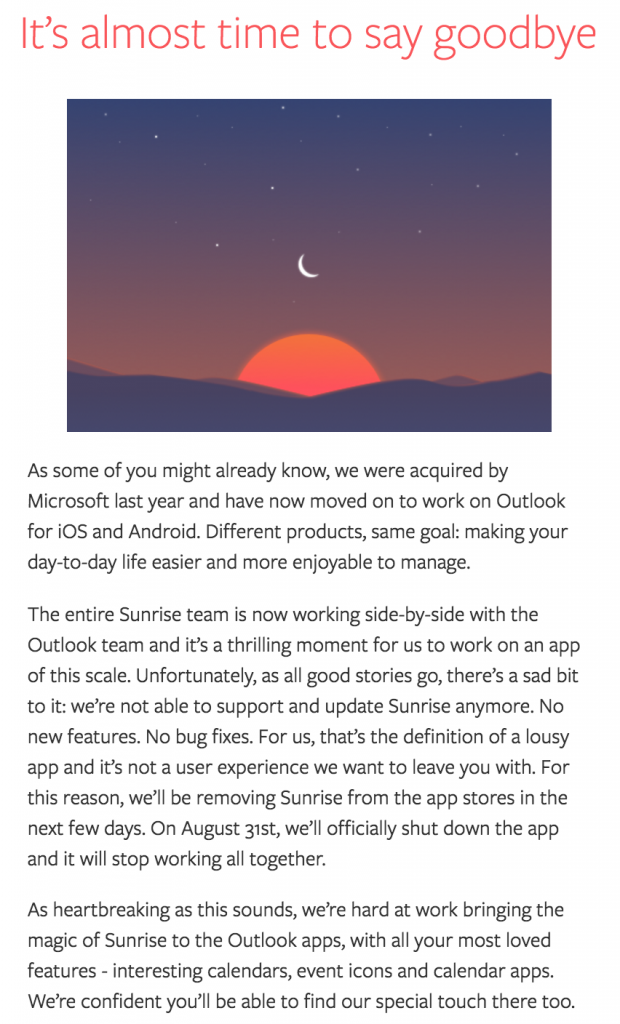 Even then, I was a little surprised when a couple of months ago a message popped up on the app. The summary was that Sunrise Calendar will not be available after 31st August 2016. You can read the full post here.
Sunrise has a suite of calendar products for both mobile and desktop users that connects with and consolidates calendars from different providers. I was totally drawn to because of its ubiquity to exist on multiple platforms like my Android smartphone, our Macbook, my husband's iPad and even Apple Watch.
Can you believe that with that this little powerful application on my Android I could view right across all my calendars:
personal calendar on Google
work calendar on Office365
Mr Logan's calendar on iCloud
Personal task due dates on Todoist
Housekeeping task schedule on Trello
Pet project due dates on Asana
Writing project reminders on Evernote
Facebook birthdays
Meetup events… the list is endless!
I am sure that the cross-device and cross-platform support of Sunrise Calendar has helped it gain significant traction among its users.
Sunrise Calendar Alternatives?
For now, I have replaced Sunrise Calendar with Google Calendar to see if it fits the bill. There is only one thing I am actually missing: Two-way calendar synchronisation with other applications specifically Asana and Office365. With Sunrise, I just had to look at a single page to view all my appointments, and I could even make changes. But with Google, I can view my appointments, but to make amendments I need to go to the source application. And even then, the changes don't sync immediately.
Since the team behind sunrise is now working on the new Outlook, there is hope that some of the features of Sunrise including 2-way synchronisation would make its way into Outlook. Unless Google steps up and does something about the two-synchronisation, I think I will have to keep eyes open for an alternative. And I have precisely 7 weeks do that.
Anyone else out there looking for an equally ubiquitous and cross-synch-friendly calendar application? Let me know in the comments below.